Innovative Lean Construction Safety Equipment & Consulting
Services for the Construction Industry
NOW SHIPPING TO CANADA & MEXICO!
It's More Reasonable Than You Might Think.
Spot On Safety manufactures, distributes, and resells innovative construction products and services geared toward saving lives, time and money.
Let Us Show You The Difference.
We serve all industries with a focus on vertical commercial capital projects, industrial and heavy highway industries.
Let's Talk!
Speak with a representative to learn about our full line of innovative construction safety products.
Specializing in Racks, Baskets, and Bins. Crane or Hoist ready for your project tools and supplies. Stackable and moveable and fully engineered to meet any challenge.
SCAFFOLDING BID CONSULTING
Decades of experience planning and bidding commercial construction projects of all sizes and scopes.
AlphaEdge Engineered Edge Protection vS WOOD systems!
See how using our modular AlphaEdge fall & edge protection can save you thousands in labor and materials when compared to wood.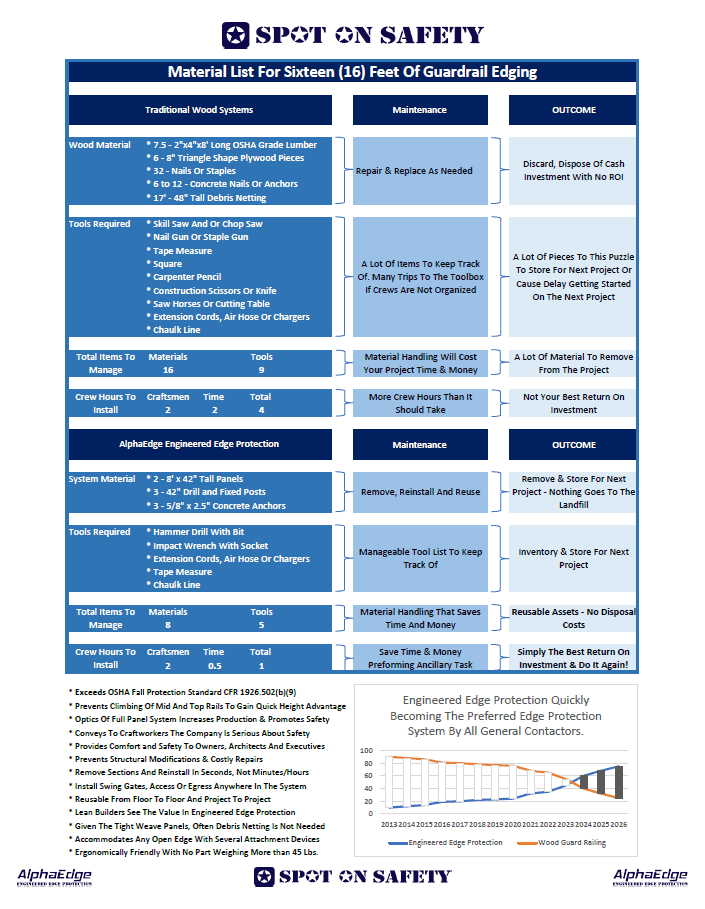 Since the company's inception, Spot On Safety has established strong repeat customer relationships. We seek to move toward partnerships with our clients and recognize that the process requires an investment in time combined with consistent excellent performance. Our reputation for helping our clients in making their sites safer, their processes more efficient while saving time and money has spread across industries and is driving our growth.
What our Clients Are Saying:
"I want to take a few minutes to say thank you for your contribution regarding jobsite safety solutions. Whether it be the creative design for a new piece of equipment or proactive adaptations to existing items, a simple conversation is all it takes and Spot-On Safety is all over it.  A great example of this is your AlphaEdge perimeter protection.
You always find a way to deliver for us, you do so in a timely manner and your service-oriented approach to business is 2nd to none.  We wish you many years of continued growth and success as Spot-On Safety helps make our industry a safer place to work."
We're ready to exceed your expectations.  Leave us your contact information to learn how Spot On Safety can improve safety and productivity on your next project.