Provide a safe working environment using our modular edge protection systems built to save lives, time and money.
Modular, Reusable edge protection for Any Project or Work Area
AlphaEdge is the most cost-effective modular Engineered Edge Protection system on the market. Simple to install, easy to maintain and extremely flexible, AlphaEdge is quickly replacing wood and other edge protection alternatives.
Install AlphaEdge in practically any building or work area with our wide selection of mounting hardware.  From start to finish, installation takes just a few seconds for each panel with minimal equipment.  Unlike wood, AlphaEdge can be reused for multiple projects, year after year.
AlphaEdge panels interlock for bulk stacking and storage, and can easily be repaired in the field.
Click on the hotspots to learn about different AlphaEdge applications:
42" AlphaEdge Drill & Fixed Post
8'6" AlphaEdge Panel (42" Tall)
8'6" AlphaEdge Panel (42" Tall) stacked vertically
8'6" AlphaEdge Panel (42" Tall)
Compression Post 7' - 13'
8'6" AlphaEdge Panel (42" Tall)
See How AlphaEdge compares
Resizable, reusable, compact, and extremely flexible fall protection for a price that beats out other conventional fall protection systems. Purchase comparison and rent for much less.
All products are rigorously engineered and tested to exceed OSHA regulations for leading edge protection.
Lumber

Cable

Cost per Linear Foot, Jan. 2023
The AlphaEdge Edge Protection System can be used as site security fencing or highway dividers on your jersey barriers. The Return on Investment (ROI) is the highest in the industry. Not only can the AlphaEdge be used as edge protection and fencing, it is 100% galvanized, 100% repairable and the most durable product on the market today with an expected 15 year life span. Now, that's a return on your investment.
Bridge & Highway Safety Fencing
Whether concrete, wood or the standard C49 road and bridge bracket, Spot On Safety offers a complete engineered edge protection system compatable with your site conditions.
With our specility designed pocket insert, Spot On Safety can offer a simple, reusable, cost effective alternative to the typical lumber edge protection system use today. Install in 50% less time with half the crew size.
The AlphaEdge system is proudly built in the USA using quality galvanized steel.  Our system is built to handle 5+ years of heavy abuse year-round in the harshest of conditions.
Spot On Safety's unique "Seam Coil" allows panels to be seamed together, extended or configured without the addition of vertical post. The AlphaEdge panels are low profile allowing more pieces to be stacked in racks & baskets (50ea.) thereby maximizing freight cost and minimizing staging time on the project. 800 linear feet of edging in 3 compact racks requiring less than 100SF of space pre & post deployment.
Incorporate access & egress swing gates, or section off additional areas or simply eliminate corner posts with the Seam Coil. These innovations make the AlphaEdge System the most flexible and accommodating system on the market today.
Armstrong Hook
As the only Engineered Edge Protection manufacturer in the US to design and develop the only patented "Passive Restraint" attachment system with NO moving parts, typically prone to damage. NO moving part, no tools required and 100% repairable or replaceable in the field if damaged.  
See why AlphaEdge is the best engineered edge protection system on the market.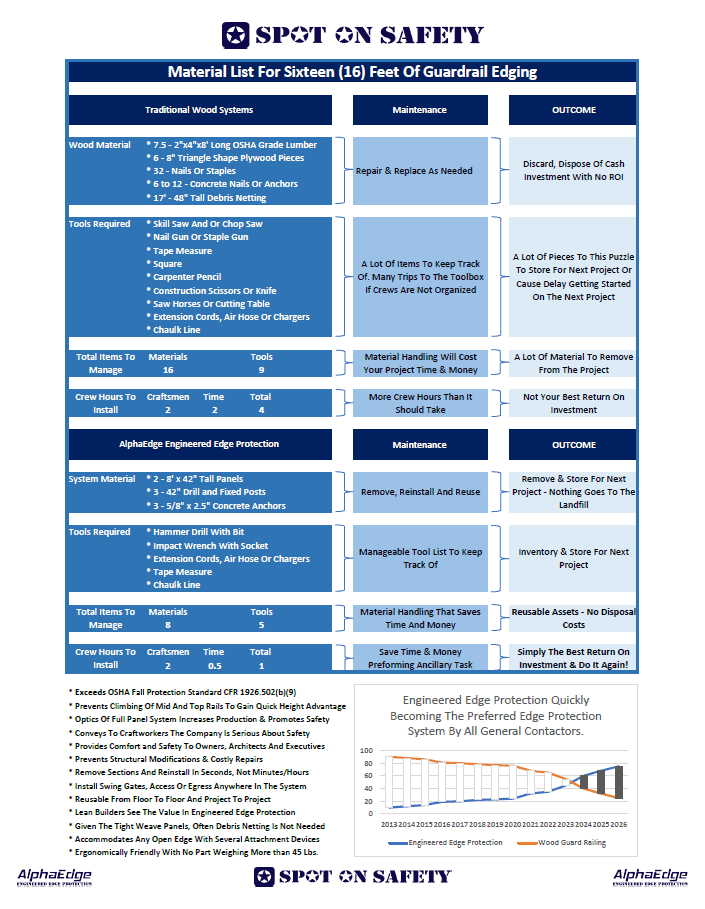 42″ tall
Product Code ASG-42
42″ tall
Product Code: ADP-42
42″ tall
Product Code: ADP-HD-42
84″ tall
Product Code: ADP-84
From 8'6″ – 12′ tall
Product Code: ACP-8612
Request a demonstration today
Still unsure whether the AlphaEdge product will deliver results on your next project? Contact us today for a free no cost demonstration at your office or job site and see first hand how the AlphaEdge Engineered Edge Protection System will save you time and money.
With the tight labor markets of today, complete your next edge protection requirement in half the time with half the crews used to previously carry out Edge protection on your next building, elevators shaft, roof top, retaining wall or SME wall.
We're ready to exceed your expectations.  Leave us your contact information to learn how Spot On Safety can improve safety and productivity on your next project.